"Phebe was honest with me throughout the process and didn't try to sugarcoat any circumstances that came up. She always made me aware of the range of possibilities for an outcome, while keeping me focused on our plan….the results were the best scenario projected, as we won my case! I couldn't be happier with the outcome." – Bob Marchand, Client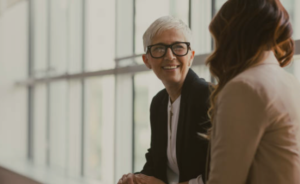 A client's panic and confusion should quickly be replaced with knowledge and a good plan. Keeping clients in the loop builds a strong trusting attorney-client relationship and helps clients make better decisions. Phebe A. Enfield, Attorney
It is important to understand that family courts today encourage separating couples to mediate their differences and negotiate the divorce settlement out of court. In many jurisdictions, mediation is now a court requirement that must be waived by the parties, even in cases with restraining orders. This is generally helpful for many people. However,
mediation is not always the best solution
. For example, victimized or less aggressive individuals may not be able to take a stand for what they believe is fair and end up settling for bankruptcy or unsustainable family obligations simply because they cannot fight or negotiate with their aggressive spouse anymore. In these situations, they need an attorney to stand up for them, negotiate with opposing counsel (or their spouse) and make compelling arguments for the judge. Court action is also sometimes necessary in heated contested situations where the parties strongly disagree, or the relationship has become too toxic to reach any kind of agreement. Domestic violence can be a serious factor and there are times when protective orders need to be issued by the court. Sometimes it is more effective and less costly to go to court and let the judge decide based on the facts and arguments before the court.
When children are involved, divorce is always more complex. Agreements and parenting plans must be in the "best interest of the children." That is the law. The state and the court have a say in what happens to children when their parents separate.
It really comes down to what is at stake for each party and their children. That is where an experienced attorney can help with strategy, court arguments and artful opposing counsel negotiations – or a well-crafted divorce agreement drafted during mediation sessions.
Other Legal Services